Jean's Garden Mini-Golf
BRIDGETOWN Golf Club has built a mini-golf garden to open up the club to younger people particularly those who would not normally come out and play. The garden has been well received by local schools and community groups as well as a venue for birthday parties.
The club provided the land for the garden and cost for the mini-golf project was covered by local individuals sponsoring each hole and the gardens and water feature. Companies such as John May Excavation and Timber Treaters freely provided earthworks and border material. The bricks were provided by Rita Baldock from her old farmhouse chimney. Rita has also planned and planted the gardens with Kay Walker.
Robbie Robertson, who designed the grass greens on our 18-hole course, designed the mini-golf layout. The majority of the constructing of the site was completed by Shane Apps, Robbie Robertson and 87-year-old Vern Daulby.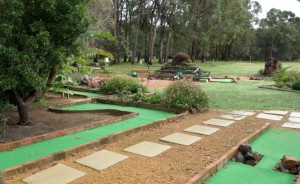 The course has been named Jean's Garden in honour of our much-loved life member Jean Klause who sadly passed away in November 2013. As well as being a keen golfer, Jean, together with Rita Baldock, ran beginner's golf each Tuesday morning in winter for many years. Although Jean was ill at the time she fully supported the mini-golf concept and the idea of bringing different people to our club. Jean's favourite flower was the poppy and it is used in all our Mini Golf literature.
In the future the club intends to join the annual Garden Festival and has already run the inaugural Corporate mini-golf event which includes the Bridgetown Mini golf champions.
Bridgetown Golf Club would like to thank all of our hole sponsors, companies and individuals that supported this project.
Hole Sponsors;
| | | |
| --- | --- | --- |
| SPONSOR | HOLE | NAME |
| LYN WHITNEY | 1 | LYN'S LEFTY |
| ERIC TILLMAN | 2 | ERIC'S CASTLE |
| BETH DAULBY | 3 | DAULBY'S REVENGE |
| MARTY & ALLIE MCLERNON | 4 | MCLERNON'S CASCADE |
| LEE STEINBACHER | 5 | PADALACS |
| PAM & SLIM MCLERNON | 6 | PAM & SLIM |
| RITA BALDOCK | 7 | BALDOCK FAMILY |
| FREDA TILLMAN | 8 | FREDA'S FOLLY |
| GREG TOMKINSON | 9 | GG TOMKINSON |
Other Sponsors and Companies;
| | |
| --- | --- |
| NAME | SUPPORT |
| BRIDGETOWN LAUNDROMAT | FUNDS |
| ROBBIE ROBERTSON | FUNDS & CONSTRUCTION |
| JON DIXON FINANCE | FUNDS |
| JOHN TILLMAN | WATER FEATURE MONEY & ROCKS |
| PETER SMITH | CONSTRUCTION |
| VERN DAULBY | CONSTRUCTION |
| STAN HOLROYD | CONSTRUCTION |
| BRIAN WHEATLEY | BRICKS |
| SHANE APPS | CONSTRUCTION |
| TIMBER TREATERS | GARDEN LOGS |
| RICHFEEDS & RURAL SUPPLIES | GRASS TRANSPORT |
| RITA BALDOCK | BRICKS & GARDEN |
| KAY WALKER | GARDEN |
| PETER GREEN | WATER FEATURE |
| BEVAN O'DWYER | TRANSPORTING BRICKS |
| LEE STEINBACHER | PHOTOS |